Personal Information
Name: Yun-Tsung LAI (賴 昀樅)
Affiliation: High Energy Accelerator Research Organization (KEK), Institute of Particle and Nuclear Studies (IPNS), Electronics System (E-sys) group.
Position: Assistant Professor
E-mail: ytlai_at_post.kek.jp
Address: 305-0801, 1-1 Oho, Tsukuba, Ibaraki, Japan

If you are looking for a Ph.D. position for experimental high-energy physics, and are interested in:

Electronics device,

FPGA firmware development,

Physics study and hardware systems in Belle II experiement,
please contact me via email anytime!
You are welcome to join us with the Sokendai (総合研究大学院大学) Ph.D. course.

Research Experience
Belle II experiment      link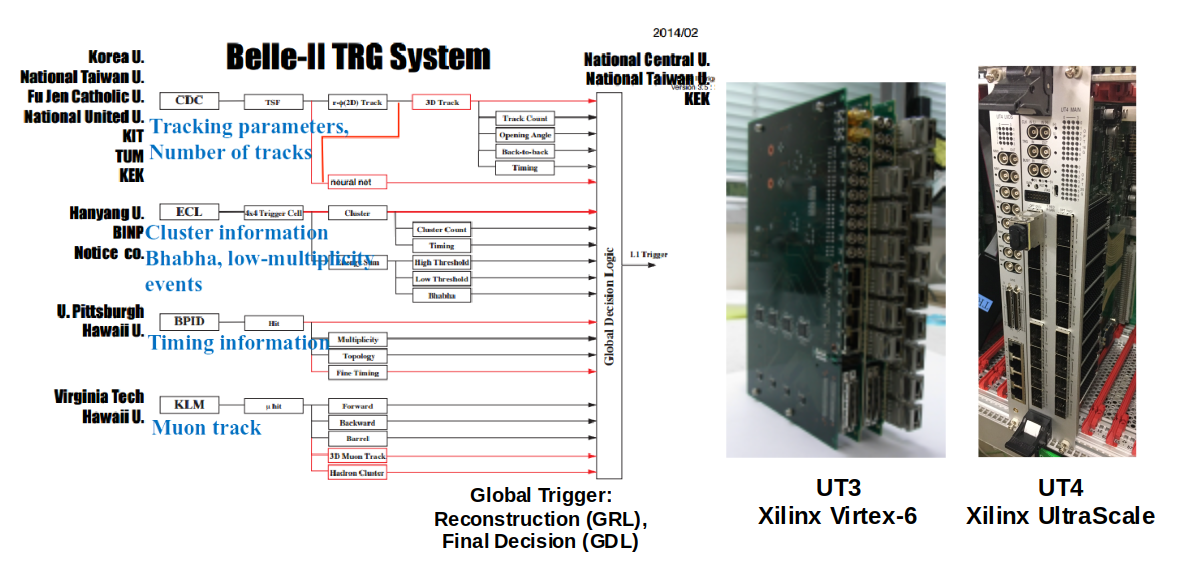 Belle II L1 Trigger (TRG)
Charged tracking algorithms, FPGA firmware development/maintenance for the track trigger system (CDCTRG) as one of the major manager of the system.

Development/maintenance on CDCTRG Merger board: firmware design, mass production and quality check.

Fully user-defined data transmission protocol design for optical link in TRG for Xilinx and Altera FPGA chips.
Data readout to central DAQ using Belle2Link protocol. Extension of the protocol to different Xilinx MGT.

Global Reconstruction Logic (GRL): Summary of Level-1 trigger. Matching algorithm between CDC track trigger and outer sub-detector's information. Tracking algorithm for CDC short track.

Firmware design for the next generation of universal trigger board (UT4): New data transmission protocols with higher speed using Xilinx UltraScale FPGA's MGT.

Software in Belle II software framework (basf2): Manager of entire TRG software package. Development/maintenance of L1 algorithms for simulation, and offline data unpacker and processor.

Co-Investigator of 科研費 "ダークマターの正体は何か?- 広大なディスカバリースペースの網羅的研究" 計画研究 B05 "電子陽電子加速器によるダークマター探索": Trigger performance study and new trigger development for Dark Sector search and low-multiplicity physics processes.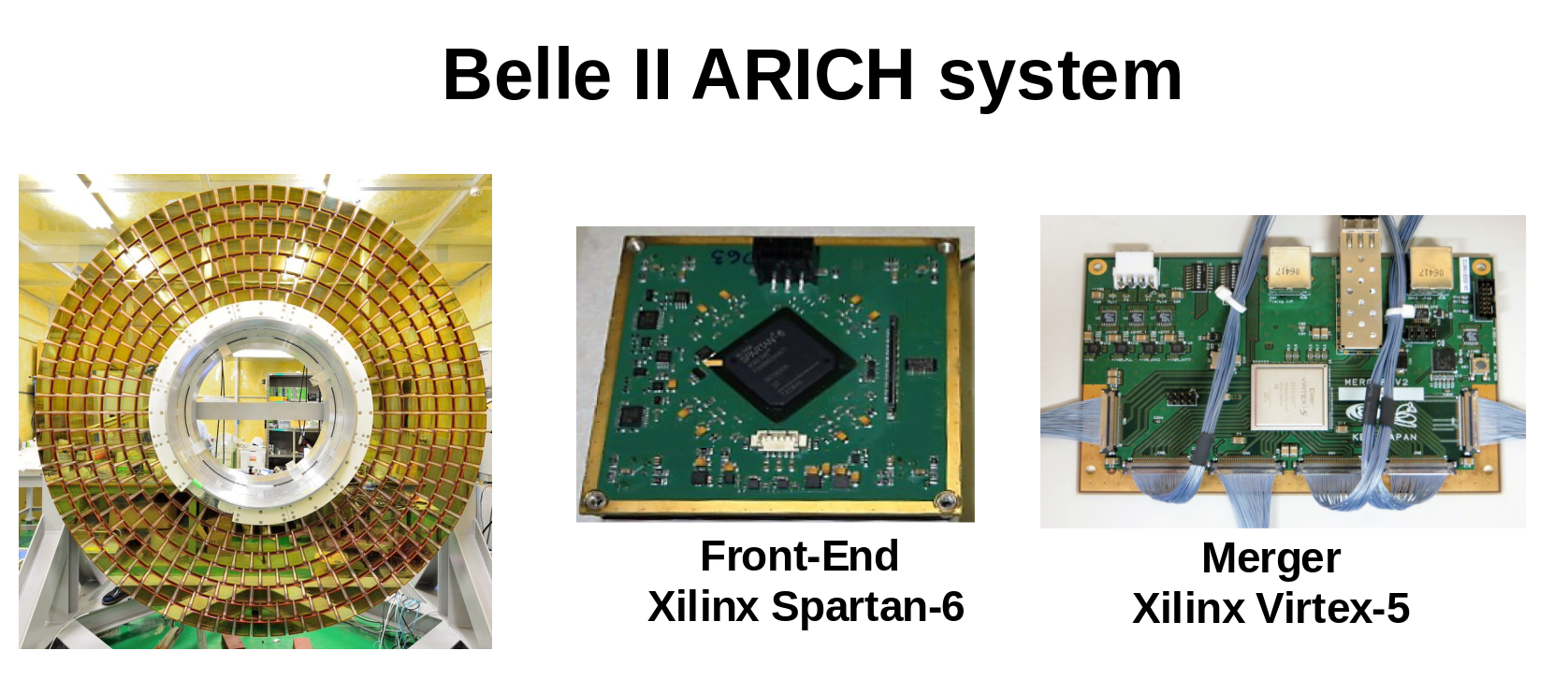 Belle II Aerogel-Based Ring-Image Cherenkov counter (ARICH)
Firmware design and maintenance for ARICH Front-end and Merger electronics boards: Implementation of Belle2Link protocol for data taking. Real-time Single-Event-Upset (SEU) monitoring and treatment in FPGA.

Maintenance of the ARICH DAQ system: as the leadership for the operation management of the ARICH DAQ system.

Particle identification likelihood performance check for ARICH with Belle II phase2 data and software design.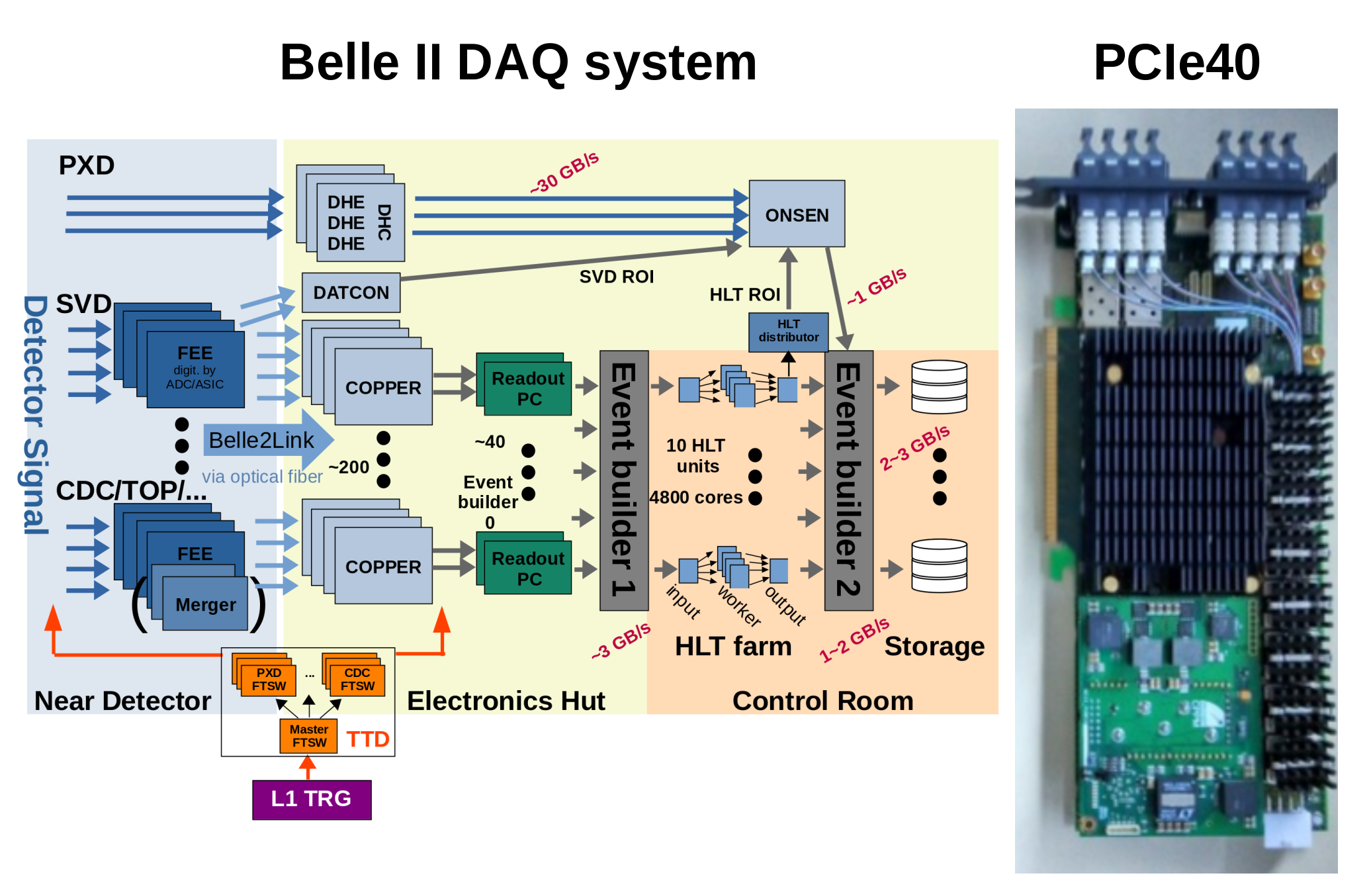 Belle II DAQ
Maintenance of data readout firmware using the universal Belle2Link protocol: Source codes of Front-End electronics and readout modules.

Firmware development of the DAQ upgrade based on new PCI-express-based readout board (PCIe40). Slow control software development in readout server for PCIe40. Commissioning for the upgrade of different Belle II sub-detector systems.

High-Level-Trigger system (HLT) with ZeroMQ implementation: An open-source universal messaging library.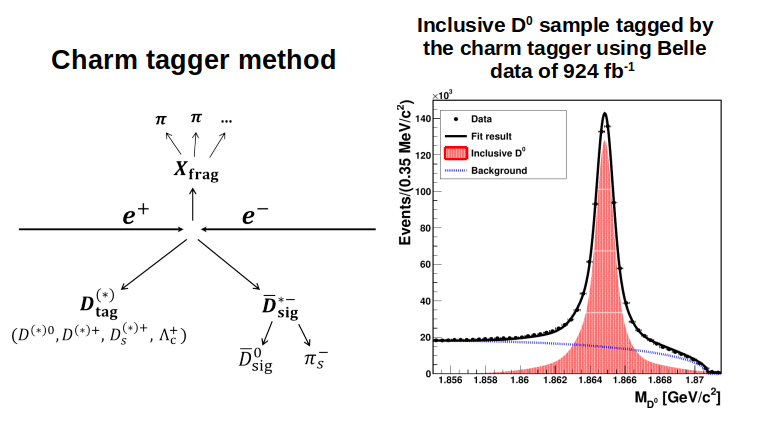 Belle experiment      link
Baryonic B decays.

Development of the charm tagger method, and search for D0 decay to invisible final state.

Charmless three-body B decays: Search for the resonant state and localized CP asymmetry in the phase space.

Work Experience
Jun 2020 - Sep 2022: Project researcher @ University of Tokyo, Kavli IPMU, Kashiwa, Japan.      Kavli IPMU


Jun 2017 - May 2020: Postdoc researcher @ KEK, IPNS, Tsukuba, Japan.     


Education
Jan 2012 - Sep 2016: Doctor degree @ National Taiwan University, Department of Physics, Taipei, Taiwan.


Jul 2008 - Jan 2012: Bachelor degree @ National Taiwan University, Department of Physics, Taipei, Taiwan.

Publication
Please refer to: pdf